Welcome to the
Royal Rehab Group
We are a charity with a clear purpose, to empower the people we serve so that they can achieve their full potential.
With a rich heritage spanning over 120 years, we take great pride in delivering outstanding rehabilitation and disability services, always striving for excellence.
We invite you to learn more about us and to connect with us.
If you have an interest in becoming part of our team, we encourage you to visit our careers page and explore the exciting opportunities available.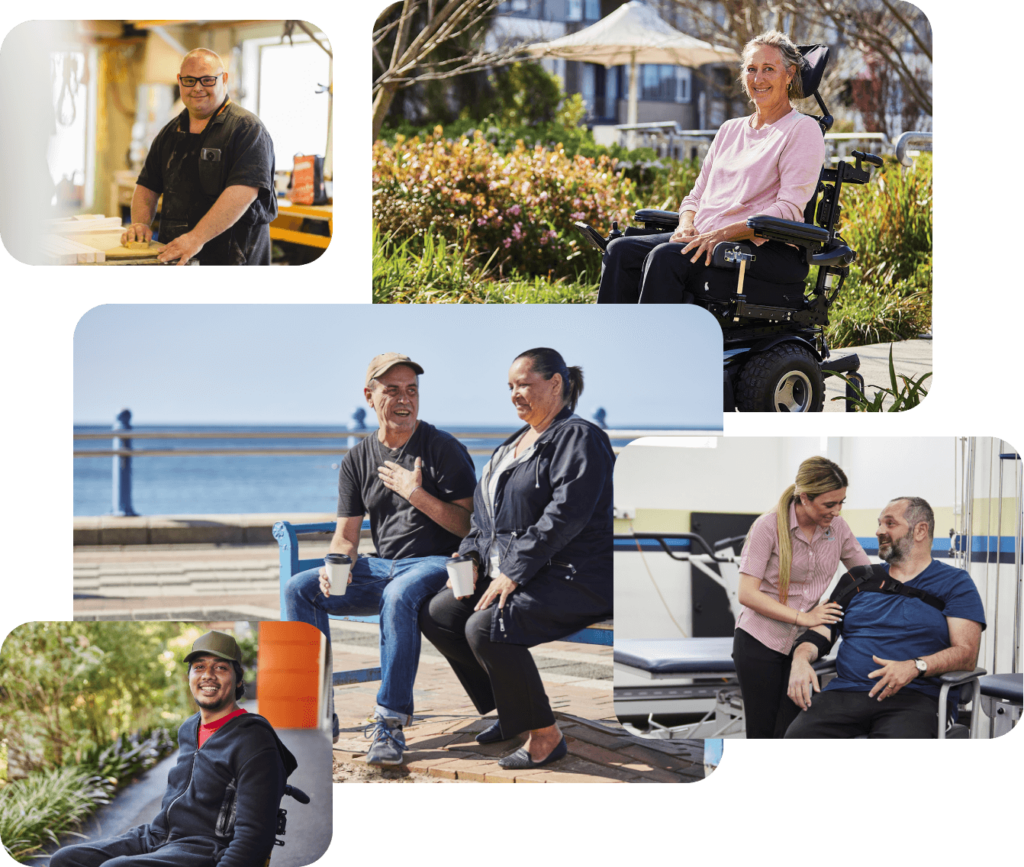 Innovation and creative thinking are at our core, and we are proud to be recognised for our exceptional care.
Our approach is centred around offering tailored solutions to individuals based on their specific needs and where they are in their life's journey. Whether it's recovering from an illness or injury, improving function and overall wellbeing, or facilitating community participation, our goal is to empower individuals to become more independent, leading fulfilling lives.
Our services include rehabilitation hospitals, community allied health services, a state-of-the-art advanced technology centre, disability services offering accommodation services and in home support, employment services and support, disability support co-ordination, and family mental health support services.
We also have a luxurious resort designed for individuals with spinal cord injuries, and a registered training college.
Our services include NDIS Supports, Support Co-Ordination, Supported Independent Living, Specialist Disability Accommodation, and Short-Term Accommodation.
We also offer Disability Employment Services and School Leaver Employment Services, to assist individuals in securing meaningful employment opportunities.
We offer allied health services such as physiotherapy, occupational therapy, speech pathology, dietetics, psychology, exercise physiology and much more.
With services across the eastern seaboard of Australia, we take pride in our multidisciplinary approach and innovative solutions.
We specialise in neurological conditions such as stroke, Parkinson's disease, brain injury, spinal cord injury, multiple sclerosis and more.
We also offer orthopaedic rehabilitation, reconditioning, and post-operative care.
Our services are available both as inpatient and outpatient treatments.          
Royal Rehab Private Petersham
Whether it's recovering from a neurological or orthopaedic condition, rebuilding strength and endurance, supporting individuals through cancer recovery, or managing chronic pain, our hospital offers comprehensive programs to assist patients in their journey towards improved health and wellbeing.
Our registered training organisation offers a range of qualifications, short courses, and customised training services responsive to industry needs.
Through personalised and self-paced training, we ensure that students obtain the skills they need to succeed as disability support workers, aged care workers, allied health assistants, and mental health professionals.
Located on the beautiful Northern Beaches of Sydney, our luxurious resort is specifically designed for individuals with spinal cord injuries. 
With seamlessly integrated accessibility features, expert clinical support, equipment, and engaging activities, our focus is to enable our guests to enjoy a fun packed holiday without hindrances or limitations.
Ryde Public Rehab Services
Royal Rehab Ryde, public services include specialist traumatic brain injury and specialist traumatic spinal cord injury rehabilitation.