A career with the Royal Rehab Group is an opportunity to make a difference within an iconic organisation recognised as a leader in rehabilitation and disability support in New South Wales, Queensland & Victoria.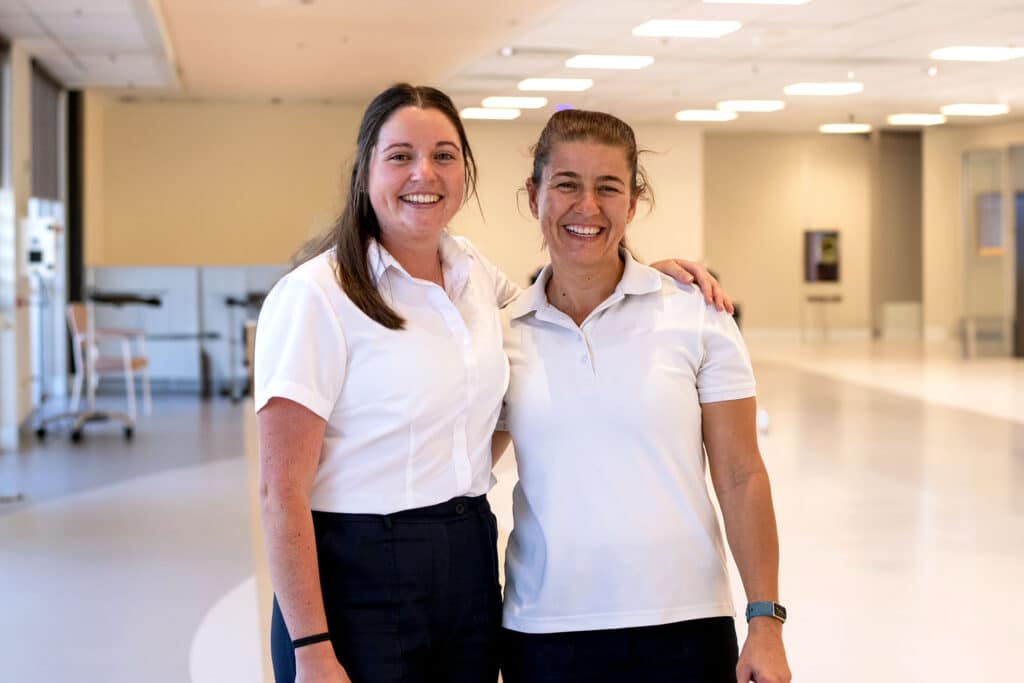 If you are keen on joining our organisation but haven't come across a role that fits your expertise, why not share your details with us?
We are currently accepting expressions of interest and will notify you promptly as soon as a suitable position becomes available.
Benefits of working with us
As a not-for-profit organisation, Royal Rehab staff members can take part of their income as a tax-free benefit.
Salary packaging reduces the amount of tax paid, resulting in more take-home income.
Royal Rehab staff members can choose to salary package up to a maximum of $15,900 per fringe benefit tax year on items such as their mortgage, rent, school tuition fees, private health insurance, groceries and utility bills.
Royal Rehab also allows staff to salary package a further amount up to $2,650 for meal and entertainment benefits.
For further information on salary packaging visit Maxxia, our salary packaging provider.
Royal Rehab understands that flexible work options are important, and we believe that staff should have a healthy work-life balance.
As an organisation we try to accommodate your responsibilities away from work and we offer a range of work options such as full-time, part-time, casual hours and job-share arrangements.
We are committed to the wellbeing of our teams and recognise that health equals happiness.
Fitness Passport is a discounted workplace health and fitness program available to employees and their family.
For a fraction of the price of a regular gym membership, staff have access to a wide variety of gyms, pools, and fitness centres that are conveniently located near their primary workplace or home address.
What you get:
Unlimited visits across all fitness facilities on your program
Individual and family memberships available
Discounted fortnightly direct debit
Simple hassle-free swipe access on entry
Full facility access including gyms, group classes and pools
Royal Rehab has partnered with Australia's largest not-for-profit health fund, HCF, to provide our employees access to discounted private health insurance.
Through this partnership, employees have access to reduced corporate pricing for hospital cover products compared to equivalent levels of cover in the HCF retail range (excludes Future Care products).
Our EAP (Employee Assistance Program) is a free 24-hour counselling service available to all employees. It's a confidential counselling service for members of staff who may need support with personal or workplace problems that are affecting their wellbeing.
Employees may be eligible for:
paid maternity/paternity leave
individual leave
family leave
community services leave
cultural leave
study leave.
At our multifaceted organisation, we prioritise the growth and development of our employees. We offer numerous opportunities for career advancement and encourage moves across the organisation, which spans the entire east coast of Australia. We also provide secondment opportunities within the broader NSW Health network.
At Royal Rehab, we take pride in our culture of continuous learning. We support ongoing education for our staff through structured on-the-job training, external study opportunities, and partnerships with education providers. Our commitment to best practice in rehabilitation and disability services is reflected in our collaborations with external researchers and our long history of leading research projects.
We believe that research drives advancements in our field, which is why we encourage our staff members to be involved in our research initiatives. With a focus on many different domains, we strive to push the boundaries of what's possible in rehabilitation and disability service.
At Royal Rehab, our leadership team is committed to fostering innovation, promoting professional development, and creating internal opportunities for growth and advancement. Our approachable leaders are passionate about creating an environment where diversity is valued, and where our teams are equipped with the necessary tools and resources to deliver the highest quality care and services to our customers. We believe that our success as an organization is driven by the success of our staff, which is why we prioritize their growth and development. Our leaders encourage new ideas and approaches, and are always looking for ways to improve our services and care. At Royal Rehab, we're dedicated to creating a supportive and inclusive workplace culture that values collaboration, creativity, and ongoing learning.
Work within an inclusive and supportive culture.
We are proud of our diverse and skilled team of passionate healthcare and support professionals who are committed to delivering the very best for the people we serve. A career at the Royal Rehab group is the opportunity to make a difference within a progressive and innovative organisation, built on a rich history of community care since 1899.
We know diversity makes Royal Rehab a great place to work and we are committed to building an inclusive workplace culture that reflects the people we serve. We encourage applications from diverse community groups including Aboriginal and Torres Strait Islander people, LGBTIQA+, people with a disability and people from culturally diverse backgrounds.
June 2021 saw the Royal Rehab Group join a network of more than 1,100 corporate, government and not-for-profit organisations with the endorsement of its first Reflect Reconciliation Action Plan (RAP).
RAPs provide an important framework for organisations to sustainably and strategically take meaningful action to advance reconciliation.
Built on the concepts of relationships, respect and opportunities, our Reflect Reconciliation Action Plan includes a series of actions that we will take as part of our reconciliation journey; guiding both internal actions as well as how we operate more broadly in the communities that we serve. To read our RAP, click here.